be everywhere at once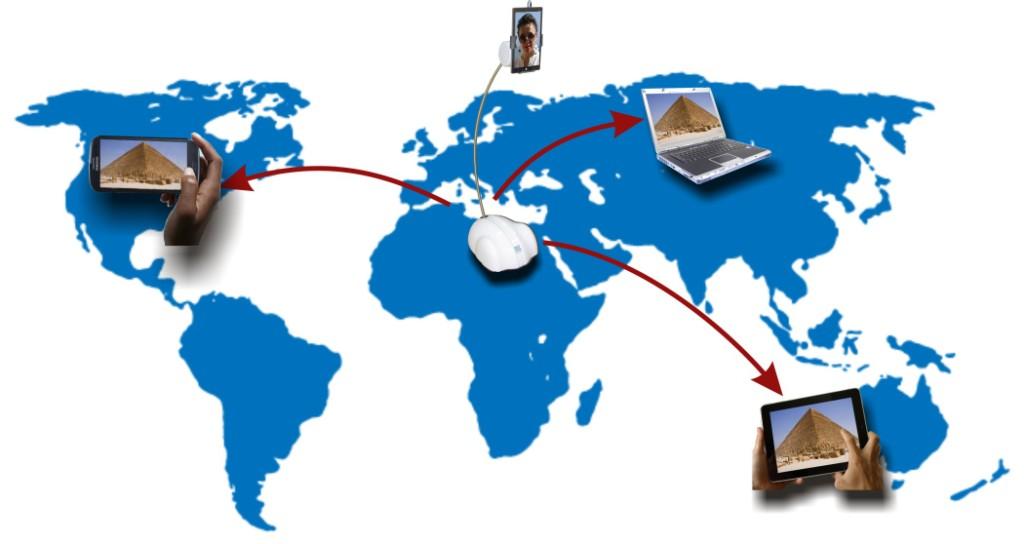 What is it?
This is a robot with tablet or smartphone instead of his head. It uses default videocommunication software based on WebRTC or Skype for video calls. The telepresence robot drives, and you can manage his movement from a web browser, i.e. it is "Skype on wheels".
BotEyes is a telepresence robot. What is it for and who needs it?
If you have ever used Skype, about the BotEyes clearer just to say it is Skype on wheels, i.e. webcam with microphone and speaker that can drive, turn in the desired direction, and all of these movements you can control from anywhere in the world via the Internet. It can be done from any computer or smart phone, and it is no need to install the software - it is enough to enter the site BotEyes.com using your login and password.
What is the Telepresence Robot for in your business?
You can save a lot of time visiting the right places without getting up from the chair. Have you no time to go to the performers to explore the results of work? - Look through the eyes of the telepresence robot BotEyes.
Similarly, you can remotely:

participate in production meetings in another branch of your company;

monitor the performance of work;

perform inspection of production;

you can hire workers in another city or country and they can work using telepresence robot as if they are in your work place;

"Attend" on the tests of new products;

telepresence robot can also function as a promoter in the exhibitions, carrying visitors handouts drinks;

visit the store (for example, to examine the entire range of furniture or cars);

visit the exhibitions;

telepresence robot will allow your guard to see the territory in areas which are not covered by video monitoring system.
The telepresence robot can be used to bypass a security guard and inspection within the protected object outside or inside the building. To do this, use the local network, without access to the Internet.
What is the Telepresence Robot for in home?
You can use telepresence robot for the next.

Telepresence robot in kindergarten allows parents glances for their children using any web browser.

Leaving the robot at home, you can from anywhere and at any time to see if your iron is off, gas stove, if tap in the bathroom is closed, if your car stay on its place, if it is visible from the windows of the home. BotEyes is CCTV wheeled robot.

robot webcamera can be turned smoothly in direction you need.

You can keep an eye on children and pets when they are left home alone.

If you want to impress guests the robot can bring them a beer on robot's table.
Controlling the telepresence robot via the Internet as exciting as a computer game: it is impossible to break. Interesting for both children and adults.
The robot has an open architecture using Microsoft Windows and it is why it will have many new features in the future, such as security, automatic call police, control of leaks, fire, etc.
More pictures see here.